The Oregon Friendly Driver course is a FREE 75 minute interactive vistual course to educate all drivers on the best and safest ways to use the road with people walking or riding bikes. These classes are taught and are organized by Commute Options, The Street Trust and the Lane Council of Governments. This class is based on the Bicycle Friendly Driver program was inspired by FC Bikes and Bike Fort Collins. The Oregon Friendly Driver class addresses:
The safest ways to utilize your roadway network
What traffic laws apply to people driving, people riding bicycles and people walking
Common crashes and how to avoid them
Why people riding bikes leave the bike lane and how people driving can respond
How to use road way features such as sharrows, bike lanes, and rapid flashing beacons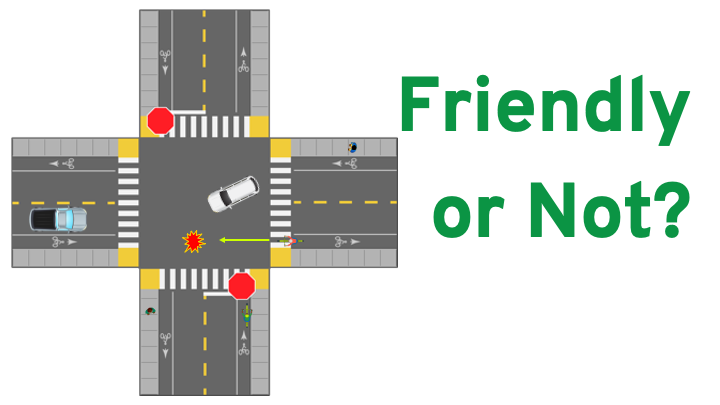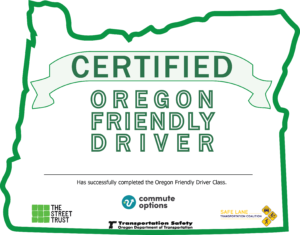 Upon successful completion of the class, participants will receive an Oregon Friendly Driver certificate.
WHO
The Oregon Friendly Driver course is geared towards professional drivers, such as truck drivers, delivery drivers, bus drivers, and other professionals that spend time on the roads. Unlike a bicycle safety or pedestrian safety class, this class is designed specifically for drivers to learn how to be a friendly driver.
The course can also benefit students and individuals. Teachers can include this course into their driver education classes. Individual drivers can also benefit from the course and are welcome to take the online course anytime or inquire about our scheduled live webinars – there are often opportunities to join community-based live webinars already scheduled.
HOW
The course is offered in two formats – Live Webinar or Online Course. Upon completion of either of these course formats you receive the Oregon Friendly Driver Certificate. Choose which format fits your schedule.
Live Webinar – your group can contact us to schedule a live webinar. This is a 75-minute interactive webinar that is led by one of our team members and includes pre/post testing. Upon completion participants receive their Oregon Friendly Driver Certificate.
Online Course – the online course is designed for individuals to access training at any time or place. No scheduling required. The online course includes a pre/post testing, video course material, and an Oregon Friendly Driver Certificate upon course completion.
Why no in-person instruction? 
In response to Covid-19, we have moved the entire program online. This provides an accessible and safer learning opportunity.
WHEN
Contact us today to schedule your live webinar or take the online course at anytime!
WHY
The purpose behind the Oregon Friendly Driver Course is to make using the road network a safer experience for people. The Oregon Department of Transportation, Transportation Safety Division, has been funding this program since 2017 to help create safer roads for everyone.